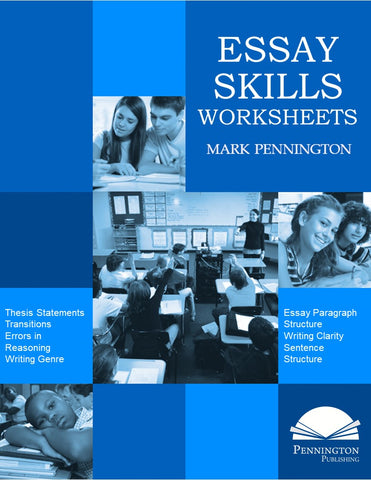 Essay Skills Worksheets
---
---
Essay Skills Worksheets provides differentiated practice for both remedial and advanced writing skill development. 
Developing student writers have a wide variety of writing skill sets. Often, teachers assume certain levels of writing competence because of students' grade levels, previous teachers, or ability to express themselves in class discussions. These assumptions may be correct, but frequently they are not. Because students differ in their relative strengths and weaknesses, teachers need to provide the resources to individualize some of their writing instruction. The Essay Skills Worksheets have been designed to meet those needs.
The Essay Skills Worksheets don't simply fill in gaps with remedial practice. Some of the worksheets certainly meet that need. For example, students who struggle with writing complete sentences will benefit from the four worksheets addressing fragments and run-ons. However, many of the worksheets provide sophisticated instruction and practice in advanced writing skills. For example, 15 of the worksheets provide instruction and practice in different types of introduction and conclusion strategies beyond the usual formulaic structures of these essay components.
Teachers may choose to use the paper or Google slides options. As the Burger King commercial says, "Have it your way."
All program components are digital downloads (no print books).
 Click to Preview this Program or view the entire program in the Teaching Essays BUNDLE.
Worksheets
Thesis Statement Worksheets (1–13)

Transition Worksheets (14–24)

Errors in Reasoning Worksheets (25–39)

Writing Style Worksheets (40–63)

Writing Genre Worksheets (64–67)

Essay Paragraph Structure Worksheets (68–75)

Types of Evidence Worksheets (76–78)

Types of Introduction Strategies Worksheets (79–81)

Types of Conclusion Strategies Worksheets (82–84) 

Sentence Structure Worksheets (85–96): 

Subjects and Predicates, Simple, Compound, Complex, 

Compound-Complex Sentences, Sentence Fragments, Run–On Sentences 

Worksheet Answers (97–107)
Google Slides: 97 interactive slides
Check out these printable and digital companion programs: How to Teach Essays includes the step-by-step instruction and practice students need to learn how to write effective introduction, body, and conclusion paragraphs. Eight Writing Process Essays applies the skills learned in How to Teach Essays to write four argumentative (CCSS W.1) and four informational/explanatory (CCSS W.2) writing process essays with connected reading resources, graphic organizers, response-revision-edit resources, and analytical (not holistic) rubrics. Teachers may purchase all three programs with the value-priced TEACHING ESSAYS BUNDLE.
---
We Also Recommend