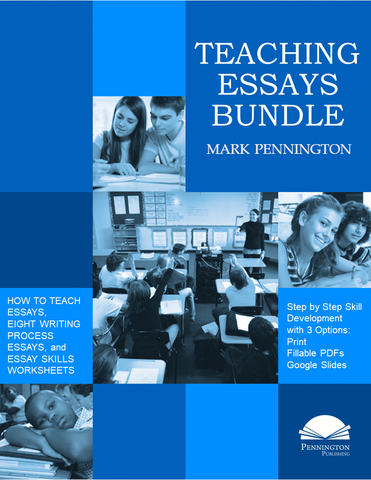 TEACHING ESSAYS BUNDLE
---
---
The TEACHING ESSAYS BUNDLE includes the three printable and digital resources students need to master the CCSS W.1 argumentative and W.2 informational/explanatory essays. Each no-prep resource allows students to work at their own paces via mastery learning. The three programs provide stand-alone instruction, but work together seamlessly. Every resource teachers need to teach essays to upper elementary through high school students is included in this comprehensive program.

All program components are digital downloads (no print books).

Click to Preview the Entire Program
How to Teach Essays includes 42 skill-based essay strategy worksheets (fillable PDFs and 62 Google slides), beginning with simple 3-word paragraphs and proceeding step-by-step to complex multi-paragraph essays. One skill builds upon another. Students build a solid foundation with the body paragraph and learn how to write effective thesis statements (claims), introductions, and conclusions. Upon completion of each worksheet, the teacher mini-conferences with the student to review the formative writing assessment. If mastered, the student moves on to the next worksheet. If not, the student revises and re-conferences or the teacher assigns additional practice with the targeted…
Essay Skills Worksheets. These 97 worksheets (printables and 97 Google slides) help the teacher differentiate writing instruction with both remedial and advanced writing skills. For example, students who struggle with writing complete sentences need the four worksheets addressing fragments and run-ons, as well as the four subject and predicate worksheets. However, more developed writers will benefit from the errors in reasoning, writing style, transitions, types of evidence, introduction and conclusion strategies worksheets. 
Once students have mastered the body paragraph, the teacher assigns one of the Eight Writing Process Essays (printables and 170 Google slides). Each essay features an on-demand diagnostic essay assessment, writing prompt with connected reading, brainstorming, graphic organizer, response, revision, and editing activities. Plus, each essay includes a detailed analytical (not holistic) rubric for assessment-based learning. Students and the teacher can use the Google comments feature to question and respond to the essays composed in the Google slides.
Teachers might also consider purchasing the complementary e-Comments Chrome Extension. Save time and provide better writing feedback in Google docs and slides with hundreds of customizable canned comments. A perfect companion to the TEACHING ESSAYS BUNDLE.
---
We Also Recommend