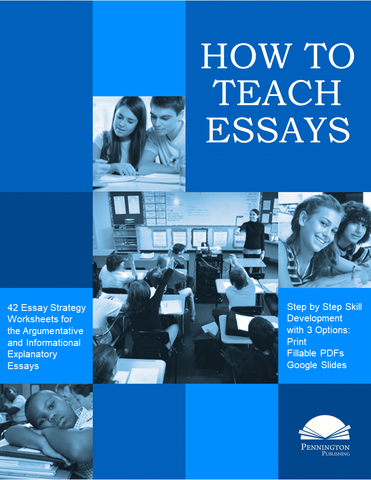 How to Teach Essays
---
---
How to Teach Essays is a systematic approach to teaching multi-paragraph essays. This step-by-step program provides all the resources that upper elementary, middle school, and high school teachers need to teach students how to write the CCSS W.1 argumentative and W.2 informational/explanatory essays. Students complete 42 skill-based essay strategy worksheets, beginning with simple 3-word paragraphs and proceeding to complex multi-paragraph essays. By the end of the program, students will have composed 4 rough draft argumentative and 4 rough draft informational/explanatory essays.  

All program components are digital downloads (no print books).

Click the Program Preview or view the entire program in the Teaching Essays BUNDLE.
As the commercial says, "Have it Your Way." Choose among these format options in your download: printed worksheets, fillable PDFs, or Google slides.
Each essay strategy worksheet emphasizes a different essay skill, and one skill builds upon another. Students will master topic sentences, support details (including 8 different types of evidence and analysis), 8 different body paragraph structures, thesis statements, 8 introduction strategies, and 8 conclusion strategies. Students will also learn the art of sentence revision with 16 different grammatical sentence openers introduced throughout the program.
The program is simple to teach. Read the two-page "Learn How to Teach This Program in 10 Minutes" and get started. No prep! While students are writing, the teacher mini-conferences with each student upon completion of every essay strategy worksheet. This brief writing conference works equally well in person, via ZOOM, or with Google comments in Google slides. The teacher suggests edits and revisions, as needed, and the students revise accordingly. When students master a worksheet, they move on to the next one.                                                                                         
The program provides class management tips to motivate your students and maintain a productive work environment. Teachers spend their time discussing and marking essays with their student writers. Absolutely no grading is done outside of the student-teacher writing conferences. Students get quality one-on-one time with their teacher and benefit from this individualized instruction.
How to Teach Essays is a flexible program. Teachers may choose to substitute their own writing prompts for those in the program. Additionally, teachers may complete the program in one semester, allotting 20 minutes per day, 4 days per week, or spread out the instruction over the entire year.   
Writing Posters
Get 59 colorful digital writing posters (8.5 x 11 for easy printing) to serve as anchor charts to teach and reinforce the key instructional components of the program. Laminate and post these and you'll have the best-looking classroom walls in your school.
Check out these printable and digital companion programs: Eight Writing Process Essays applies the skills learned in How to Teach Essays to write four argumentative (CCSS W.1) and four informational/explanatory (CCSS W.2) writing process essays with connected reading resources, graphic organizers, response-revision-edit resources, and analytical (not holistic) rubrics. Essay Skills Worksheets provides differentiated practice for both remedial and advanced writing skill development. Teachers may purchase all three programs with the value-priced TEACHING ESSAYS BUNDLE.

---
We Also Recommend