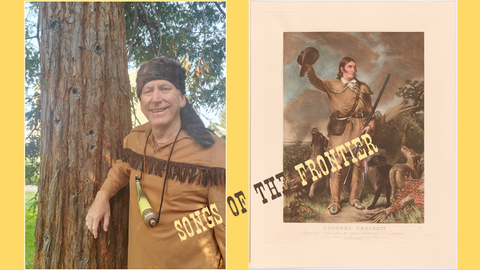 September or May: Songs of the Frontier
---
---
The toe-tapping songs of the American Frontier are pure Americana and simply great music. Join Mark and his guitar to sing along with the classic songs of the frontier:
Home on the Range, Swing Low, Camptown Races, Oh! Suzanna, Sweet Betsy from Pike, When the Saints Go Marchin' In, The Erie Canal, Wagon Ho!, The Overland Trail, The Ballad of Davy Crockett, The Trail of Tears, I've Been Workin' on the Railroad
Mark entertains and informs with historical storytelling, humor, and audience participation. Your group will love the tall tales, stories about wagon trains, canal boats, and the Trail of Tears. Plus, great music.
Click HERE to watch a quick video from the Songs of the Frontier performance.
A former history teacher at Oak Ridge High School and an elementary reading specialist, Mark performs at venues throughout Sacramento, El Dorado, Placer, and Amador counties. Email Mark at mark@penningtonpublishing.com with your contact information to schedule a memorable performance during September or May.
For fifth grade classes, Mark provides a two-hour interactive learning adventure throughout the month of May. Prior Mark's visit, teachers are emailed the lesson packet on transportation systems from 1789 to the mid-1800s (wagons and trails, riverboats and canals, steam engines and railroads with vocabulary, and comprehension questions. Now that's what I call a visiting author performance!
Mark's performance lesson includes choral readings, a short readers theater, and a special guided writing project in which students compose their own lyrics to one of the songs. Students learn about a wide array of musical instruments and get to play along with the performers. Your students will love these engaging standards-based activities. Make sure to invite parents to attend!
---
We Also Recommend