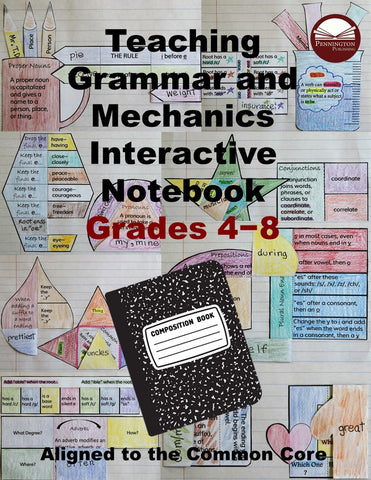 Grammar, Usage, and Mechanics Interactive Notebook Grades 4-8
---
---
Need a no-prep interactive grammar notebook to teach review and grade-level grammar and mechanics standards? With Cornell Notes, foldables, tons of online links, practice worksheets, and biweekly tests? Plus, interactive Google slides!

All program components are digital downloads (no print books).

Quick Video Preview   

Click to Preview the Entire Book




*Rigorous assessment-based instruction.
Each of the 64 lessons provides a separate teacher's guide and student lessons for a full year of grammar and mechanics instruction. A lesson includes these instructional components: Cornell Notes Mechanics and Grammar Lesson with links and Resources and corresponding student lessons
(printable PDFs and Google slides)
; Cartoon Response, Writing Application, and 3D Graphic Organizer (PDFs)
*Complete alignment to the Common Core Standards with
built-in review.
Lessons include assessment-based instruction in all grades 4-8 grammar and mechanics (language conventions) Standards with special emphasis on the Progressive Skills Review Standards grades 3–8.
*Biweekly unit tests (printable PDFs and Google forms)
including definition, identification, and application (answers included) 20–25 minutes to complete
*Clear directions with the same instructional procedures for each lesson. Perfect for both the beginning teacher, expert grammarians, and substitutes.
*Online links to songs, posters, sentence diagrams, and more
*Diagnostic Grammar, Usage, and Mechanics Assessments (printable PDFs and Google forms) with 77 remedial worksheets (printable PDFs and Google slides), each with a formative assessment... plus, an Assessment Master Matrix for progress monitoring (printable PDFs and Google sheets)
*Final exam covering all 64 lessons (Google forms and sheets) 
*Simple and fun 3D graphic organizers from Tangstar (the best on the web) with clear directions and less mess and interactive Google slides with a fun, problem-solving secret agent theme with drop-and-drag, audio, and fill-in the text box activities
*Minimal prep and correction. Teachers don't have to create their own INB for student make-up work. Print three student pages per lesson, set out the crayons, scissors, and glue (or tape), and your students write down examples and annotate on the Cornell Notes in their comp books or spiral notebooks. You display the teacher pages, read the lesson, and lead the discussion. Everything to make you the expert grammarian is included.
*Flexible curriculum. Teachers choose what works for their schedules and class time. Complete all or part of each lesson. Mix and match the paper INB and digital activities.
Here's what your students will master:
***Spelling Rules and Parts of Speech Review Unit***
1. The i before e Spelling Rule; Proper Nouns Review
2. The Final y Spelling Rule; Common Nouns Review
3. The Silent e Spelling Rule; Pronouns Review
4. The Double the Consonant Spelling Rule; Adjectives Review
5. The Ending "an" or "en" Spelling Rule; Verbs Review
6. The "able" or "ible" Spelling Rule; Adverbs Review
7. The Ending "ion" Spelling Rule; Conjunctions Review
8. The Plurals Spelling Rule; Prepositions Review
***Grade-Level Interactive Instruction***
9. Periods in Latin Expression; Proper and Common Nouns
10. Periods in Names, Abbreviations, and Acronyms; Personal Pronouns
11. Periods in Indirect Questions and Intentional Fragments; Subject Case Pronouns
12. Periods in Decimal Outlines; Object Case Pronouns
13. Semicolons with Conjunctions; Possessive Pronouns
14. Apostrophes for Singular Possessive Nouns; Adjectives
15. Apostrophes for Plural Possessive Nouns; Transitive and Intransitive Verbs and Subject-verb Agreement
16. Apostrophes for Compound Possessive Nouns; Adverbs
17. Apostrophes in Contractions; Coordinating Conjunctions
18. Comma Misuse; Correlative Conjunctions
19. Commas for Dates; Subordinating Conjunctions
20. Commas for Letters; Prepositional Phrases
21. Commas in Addresses; Subjects and Predicates
22. Commas for Names; Direct and Indirect Objects
23. Commas for Geographical Places; Phrases and Clauses
24. Commas for Tag Questions; Fragments and Run-ons
25. Commas for Direct Speech; Sentence Forms: Simple, Compound, Complex, and
26. Commas in a Series; Types of Sentences
27. Commas after Introductory Words and Phrases; Noun Phrases
28. Commas after Introductory Clauses; Noun Clauses
29. Commas and Quotation Marks with Speaker Tags; Gerunds
30. Commas before Conjunctions in Compound Sentences; Gerund Phrases
31. Commas in Complex Sentences; Reflexive, Intensive, and Reciprocal Pronouns
32. Commas with Parenthetical Expressions; Indefinite Pronouns
33. Commas with Coordinate Adjectives; Pronoun Antecedents
34. Commas with Hierarchical Adjectives; Pronoun Number and Person Shifts
35. Punctuation with Appositives; Vague Pronoun References and Demonstrative Pronouns
36. Commas with Nonrestrictive Clauses; Nonrestrictive Adjective Clauses and Relative Pronouns
37. Punctuation in Restrictive Clauses; Restrictive Adjective Clauses and Relative Pronouns
38. Dialogue and Direct Quotations; Predicate Adjectives and Adjectival Phrases
39. Punctuation of Direct Quotations; Past Participles
40. Ellipsis; Past Participial Phrases
41. Quotations within Quotations; Present Participles
42. Punctuation of Non-standard Usage; Present Participial Phrases
43. In-text Citations and Indirect Quotations; Comparative Modifiers
44. MLA Works Cited Page; Superlative Modifiers
45. Italics and Underlining: Book, Website, Newspaper, and Magazine Titles; Misplaced Modifiers
46. Italics and Underlining: Play, Television Show, Movie, and Works of Art Titles; Dangling Modifiers
47. Quotation Marks: Song, Poem, and Book Chapter Titles; Squinting Modifiers
48. Quotation Marks: Newspaper, Magazine, and Blog Article Titles; Verb Phrases
49. Quotation Marks: Short Story and Document Titles; Shifts in Verb Tenses
50. Capitalization of Named People and Places; Progressive Verb Tense
51. Capitalization of Named Things and Products; Perfect Verb Tense
52. Capitalization of Holidays and Dates; Infinitives
53. Capitalization of Special Events and Historical Periods; Indicative Mood
54. Capitalization of Organizations and Businesses; Imperative Mood
55. Capitalization of Languages, Dialects, and People Groups; Interrogative Mood
56. Question Marks; Conditional Mood
57. Exclamation Points; Subjunctive Mood
58. Colons to Introduce Block Quotations; Verb Voice and Mood Shifts
59. Parentheses with Complete Sentences; Subordinating Conjunctions and Adverbial Clauses
60. Dashes to Indicate Relationships; Relative Adverbs and Adverbial Clauses
61. Brackets; Adverb Order
62. Hyphens and Compound Adverbs; Non-standard English Deletions
63. Slashes; Non-standard English Additions
64. Numbers; Non-standard English Substitutions


Check out my blog article here on Ten Reasons to Use Interactive Notebooks.
---
We Also Recommend