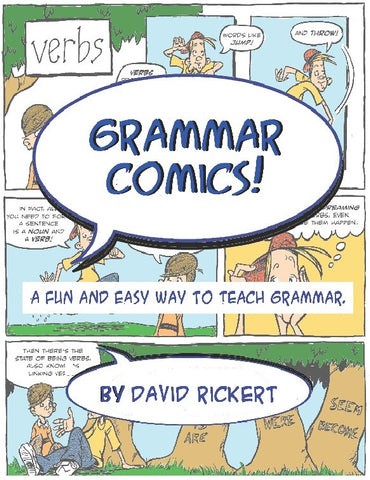 Grammar Comics!
---
---
Grammar Comics! is the fun and easy way to help students grasp the basics of grammar and usage. For many kids, grammar is a difficult subject, one that is not particularly interesting, perhaps a bit difficult, and not immediately useful. 
"A sneaky way to get students to learn. Thank you! They love it! 4 stars for quality, accuracy, practicality, thoroughness, creativity, and clarity."
            Alex Hernandez
All program components are digital downloads (no print books).
Want to see lesson and cartoon samples? Preview This Book
Grammar Comics! makes grammar more entertaining for students; every student will find the cartoons amusing and engaging and will help make grammar an approachable subject. It also helps with the memorization and retention of rules because students will be able to attach a visual to the lesson and can recall the cartoon when a particular idea must be applied. Some teachers have their students create their own cartoons following the Grammar Comics! format to help illustrate other grammar concepts.
This collection includes all of the parts of speech in clever comic strips with plenty of examples. Also get colorful parts of speech digital posters ready to be copied and used as useful wall art.
Additionally, the eBook provides 64 full page color cartoons on key grammar and usage concepts and rules. Each cartoon presents a specific lesson, an example sentence, and an illustration that brings the lesson to life. The cartoons follow the popular and effective Sentence Lifting sequence of instruction and were designed in conjunction with Mark Pennington's Teaching Grammar and Mechanics comprehensive one-volume grammar, usage, mechanics, and spelling curriculum. However, the cartons in Grammar Comics! can work quite well on their own as warm-ups or in tandem with already existing grammar lessons and grammar textbooks. Your students will love the colorful displays of these lessons.
Lastly, Grammar Comics! addresses the most common sentence problems (sentence fragments, run-ons, dangling modifiers, etc.) in comic strip formats.
David Rickert, the creator of the Grammar Comics! series, is a high school English teacher at Hilliard Darby High School in a suburb of Columbus, Ohio.  He has taught students at the middle and high school level and currently serves as the English Department Facilitator for his school. He is also an award-winning illustrator of several popular books for students and educators. 
---
We Also Recommend