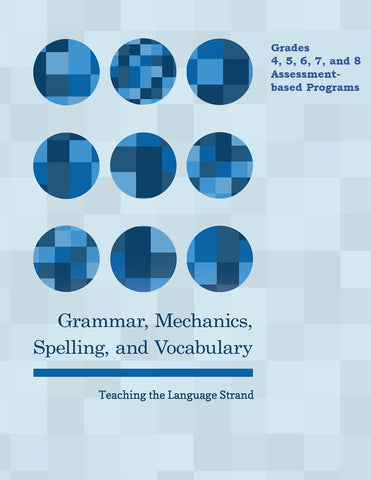 Grammar, Mechanics, Spelling, and Vocabulary Grades 4, 5, 6, 7, and 8 BUNDLES
---
---
The Grammar, Mechanics, Spelling, and Vocabulary  Grades 4, 5, 6, 7, and 8 BUNDLES include these full-year grade level digital download (eBook) programs: Teaching Grammar, Usage, and Mechanics, Differentiated Spelling Instruction, and the Common Core Vocabulary Toolkit. 
All program components are digital downloads (no print books).
Each of the three programs had both printable and digital options. The Teaching Grammar, Usage, and Mechanics includes interactive Google slides, forms, and sheets. Check out the quick video HERE. Both the Differentiated Spelling Instruction and Common Core Vocabulary Toolkit have fillable worksheets.
PREVIEW THE GRADE 4  PROGRAM WITH LESSON SAMPLES HERE.
PREVIEW THE GRADE 5  PROGRAM WITH LESSON SAMPLES HERE.
PREVIEW THE GRADE 6  PROGRAM WITH LESSON SAMPLES HERE.
PREVIEW THE GRADE 7  PROGRAM WITH LESSON SAMPLES HERE.
PREVIEW THE GRADE 8  PROGRAM WITH LESSON SAMPLES HERE.
Each grade level BUNDLE was designed as an easy-to-teach, no prep, minimal correction program to help your students master each of the Common Core Anchor Standards for Language. Perfect for new teachers, the grammatically challenged, and grammar nerds, as well! The separate grade level programs provide perfect instructional continuity among the grade levels (4, 5, 6, 7, and 8). Get the teacher's guide, accompanying student workbooks, biweekly tests, diagnostic assessments and corresponding remedial worksheets, and more in this value-packed BUNDLE.
Grade Level Instruction (Teacher's Guide and Student Workbooks)
56 language conventions (grammar, usage, and mechanics) lessons (L.1,2). The teacher reads and explains the

 

scripted twice-per-week lessons. In their accompanying student workbooks, students 

annotate the full lesson text (no time-consuming copying) to respond to the teacher's grammar and mechanics instruction, complete the practice section, fill in the sentence diagram, respond to the mentor text in the writing application, and take the formative assessment. Students self-correct and edit from the teacher's guide display. 

28 grade level spelling tests, spelling sorts, and summative assessments (L.2). The teacher administers the weekly spelling pretest. Students

 self-correct spelling pretests, complete spelling pattern sorts in their workbooks, create their own personalized spelling word lists, and posttest. 

56 vocabulary worksheets (L.4,5,6). Students learn and practice context clues, multiple meaning words, Greek and Latin word parts, figures of speech, word relationships, connotations, academic language (developed from the research-based Academic Word List), and denotations with dictionary skills sections in their workbooks. Students play games with the vocabulary study cards, provided for each lesson, to review for the tests. 
Students take 28 biweekly grammar, usage, mechanics, and vocabulary tests. These short 20-minute tests require students to define, identify, and apply what they have learned.
Individualized Assessment-based Instruction
Grammar, Mechanics, Spelling, and Vocabulary also includes resources for teachers to meet the diverse instructional needs of individual students. Perfect for English-language learners, special education, and remedial students! The program provides reliable and valid diagnostic grammar and usage, mechanics, and spelling assessments* to determine specific remedial needs. The assessments are administered whole-class and mastery recording matrices allow the teacher to organize instructional materials and to monitor the progress of individual students at a glance.
Teachers individualize instruction according to the results of each diagnostic assessment with corresponding grammar, usage, and mechanics worksheets, spelling pattern worksheets, and language worksheets. Each targeted worksheet includes definitions, examples, writing hints, a practice section, and a short formative assessment. Students self-correct and edit the worksheets and the teacher reviews the short formative assessment in a quick mini-conference. 
In other words, students can keep up with grade level standards, while they catch up with unmastered content and skills. This program provides every assessment-based resource you need to differentiate (individualize) instruction with a simple, but effective classroom management plan.
*****
Here's what teachers are saying about the Grammar, Mechanics, Spelling, and Vocabulary program...
"The most comprehensive and easy to teach grammar, mechanics, spelling, and vocabulary program. I'm teaching all of the grade-level standards and remediating previous grade-level standards. The no-prep and minimal correction design of this program really respects my time. At last, I'm teaching an integrated program–not an ineffective collection of DOL grammar, spelling and vocabulary lists, and assorted worksheets. I see measurable progress with both my grade-level and intervention students. I love the scripted lessons and training videos! BTW... get the bundle. Once you buy one of the separate programs, you're going to want it all, and the BUNDLE is a much better deal."
─Julie Villenueve