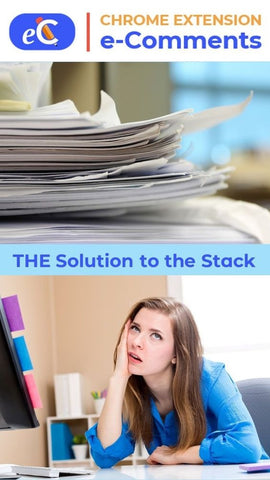 e-Comments Chrome Extension
---
---
Save time and provide better Google docs annotations with quality canned responses. Insert hundreds of canned comments from each of four different comment levels into Google docs and slides with just one click from the pop-up e-Comments menu. Each instructional comment identifies, explains, and shows your writers how to revise a specific writing issue in stories, essays, and reports. These comprehensive comments don't simply flag errors or suggest revisions, they help your writers learn and improve. Plus, you can add your own!
Check out the three-minute video that shows e-Comments in action, courtesy of teacher tech guru, Richard Byrne: https://www.youtube.com/watch?v=vSSudUQqy-o
Purchase FAQs
Add the FREE 10-day trial on the Chrome Webstore. This trial includes full functionality and all customizations are saved upon purchase. You won't lose anything! Purchase single licenses on the Chrome Webstore and you will activated automatically. 
If paying for group licenses via purchase order, use the group license dropdown above to select the number of users and get pricing. 
Scan and send the purchase order to mark@penningtonpublishing.com. Include your email and Account ID, found on the Purchase/Activation page in the e-Comments dropdown menu to expedite the order. I send you the group activation code immediately upon receipt of the purchase order with activation instructions.
Tip: The more you buy, the lower price per user; plan ahead... you will want to add additional users each year. 
e-Comment Extension FAQs
Can I edit the canned comments and the comments categories?

Yes, they are completely customizable. 

Can I add, format, and save my own writing comments, writing categories, and custom e-Comments menus for different classes, assignments, and work projects?

Yes.

Can I record audio, video, and speech-to-text comments?

Yes.

Can I record the screen?

Yes.

Can I hide and move the floating e-Comments menu?

Yes.

Does the e-Comments extension work in Google Classroom and Google Assignments?

Yes, check out the video at https://www.youtube.com/watch?v=eBv8rtNEbsE.

What about using e-Comments with other learning management systems like Canvas, Schoology, etc.?

The e-Comments app works in any LMS with admin approval.

How about Microsoft Word 365 and other web pages?

 Yes, it works! Copy and paste or drag and drop onto any web page that accepts text.

Can writers ask questions and can I reply in the comments section?

Yes. 

Can I use e-Comments on all my devices without paying additional user fees?

Yes.
Is it simple to use? Yes, the app has been designed for non-techies. Take the quick tour, read the one-page Quick Start User Guide, or watch the Video Tutorial. 

will get you grading or editing in just minutes. No time-consuming and complicated multiple clicks, dropdown menus, or comment codes, and the comments are automatically saved to the cloud and sync to multiple devices. This program is intuitive and user-friendly. 

What about these canned comments? 

The four insertable comment sets (Grades 3‒6, Grades 6‒9, Grades 9‒12, and College/Workplace) feature writing format and citations, essay and story structure, essay and story content, sentence formation and writing style, word choice, grammar, and mechanics. Each of the comment sets is printable and you can easily switch back and forth in the e-Comments menu. or create your own custom comment sets. Comments are aligned to the Common Core Anchor Standards for Writing and Language and include plenty of positive and constructive feedback. 
Tell your colleagues about this free time-saving extension!
---
We Also Recommend